If you cannot see the html content, please click here.



2022 IWF - GO FURTHER WITH IWF
IWF SHANGHAI is the most premium fitness event in Asia, which will be organized during 03.01 - 03.03, 2022 in Shanghai, combing fitness trading, training and competition. It will reach 70,000 sqm, gathering 800+ brands and attracting 75,000 buyers, by exhibiting advanced fitness & sports equipment and accessory, fitness apparel, nutrition and supplements, club supplies and facility, smart health product, sports leisure products as well as the top fitness training, latest products, trend and style.

Cprime Bracelet

Good for health: Wearing Cprime effectively improves your Balance/Flexibility/Strength and various other physical funtions.
Professional certification:An energy bracelet with certified by the Unitied States Patent and Trademark Office (USPTO) and the world Intellectual Property Orangization (WIPO). Vaildated by double-blind experiment.
BLUETOOTH MULTI
RESISTANCE BAND SET-4PIECE

Keep Track Your Workout Date-The APP for this Smart resistance bands allows you record your workout date, hearting rating, calories burned, Reps.
Four Different Level bands: The resistance bands come with 4 different resistance level 10 lbs, 20lbs, 30lbs, and 40 lbs in 4 different colors. You can use the bands independently or in any combination with a maximum resistance level of 150 lbs. It comes with 4llatex resistance bands, 2 handles,2 ankle straps and 1 door anchor, a storage bag.
Multi-function: Perfect for physical therapy, exercise, weight loss, pilates, muscle toning, muscle strengthening, stretching, rehabilitation, and general health and fitness.
You can use the resistance bands with ankle straps and door attachment to exercise at home or outside. You can do exercise anytime and anywhere to burn fat and shape your body.
Full Set Included: 4 Tube Resistance Bands, 2 Handles, 2 Ankle Straps, 1 Door Anchor, 1 Storage Bag.
HW807 Armband
Heart Rate Monitor

This is a versatile optical armband heart rate monitor HW807 that measures heart rate from your arm or temple. The device has a LED with 5 colors to show heart rate zones, so users could notice their heart rate change through the LED light color. Equipped with Bluetooth & ANT+ technology, this heart rate monitor could work with various of fitness devices including gym equipments, smart watches and compatible with most fitness Apps. Excellent performance and great choice for running, cycling and gym training.
Ari-Gym Core Fit Ball Ver. 3

Both interior and correct posture are upgraded at once! New version of Ari-Gym Core Fitball Sit on the Ari-Gym Core Fit Ball and find the right posture naturally.
Stretching / Health / Yoga / Pilates and other versatile gimbal exercises are simple, so anyone can easily do it.
Recently, the Gym-ball chair is attracting attention to balance the sitting position and body.
In many countries, such as the United States and Europe, there have been increasing cases where Gym-ball chairs have been introduced into schools or offices.
Speediance
Gym Monster

Speediance is a Chinese startup company founded in July, 2020. Our leading product is Gym Monster, an all-in-one intellectual fitness and strength training center for you and your family, with patented digital weight technology, machine learning and expert coaching. We base in Shenzhen, China. And we aim for global market.
KangRui

Elite boxing gloves: imported fetal cowhide, a strong sense of metal , high thickness, clear leather texture, multi-layer imported latex composite liner. The version is developed for professionals, with moderate bending, hand-cut stitches, artificial stitches on the back of the hand and wrist, and connect the glove as a whole to enhance the protection of the wrist during training and competition. The palm vent hole is open to radiate the movement. The heat generated allows you to release as much as you want..
Painting™ Laminated
Rubber Tile

Here what you see is the Painting™ Laminated Rubber Tile with Evolved Layer. Now we have two options: snap-on and non-buckle, which truly achieve seamless connection and free matching.
The product adopts environmentally-friendly upgraded macro-molecule materials for the layer and refined rubber granule for the bottom base. After washing and special technical treatment, the mat has the feature of super wear resistance, dirt resistance and easy cleaning.The characteristics of permanent discoloration are more in line with the needs of the fitness industry.
The surface is upgraded to high-grade skin texture with bright color, soft touch, high resilience, easy to clean without discoloration. It's also accepted to customized patterns.
RXOT

Our exceptional high standard on the products is based on our serious and responsible attitude towards the children.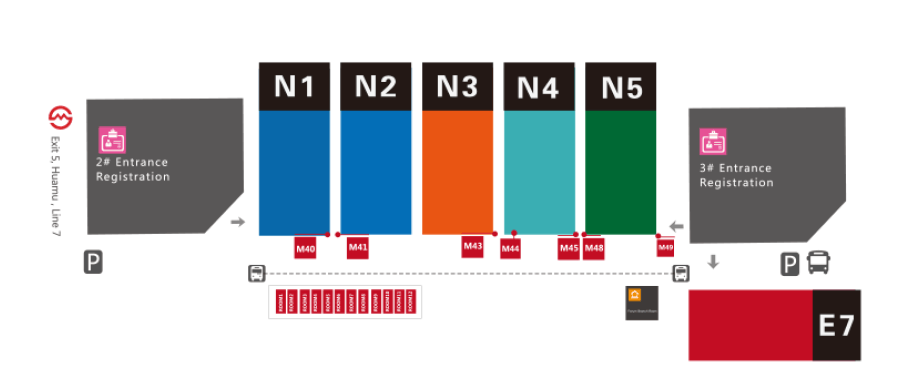 3-Day Free Accommodation
Three nights free 4-star hotel during the exhibition
For oversea visitors, including HK, MAC and TW of China
Free shuttle bus between hotel and venue
100 rooms. First Come, First Served

Matchmaking
Quickly find your interested exhibitors before exhibition
Book online by organizer, then discuss with exhibitors on site
Optimize the visiting, broaden business effectively
Group Preference
Round-Trip Ticket (for Leader)
3-Day Free Accommodation
VIP Visitors
Free Pick-up & Drop-off Services

Manufacturer Tour
Open Chinese marketing only by a direct visit
Centralized Manufacturers, OEM&ODM
Free Air-ticket and Accommodation
VISA Assistant

Shanghai Sightseeing

Fitness Competitions

Business Forum
Shanghai Donnor Exhibition Service Co., Ltd.
Harriet
Tel.:+86-21-6610 2037 / +86-21-6626 7222 # 8036
Email: iwf@donnor.com
&nbsp